Top 5 Must See
Oct 1, 2019, 20:40 PM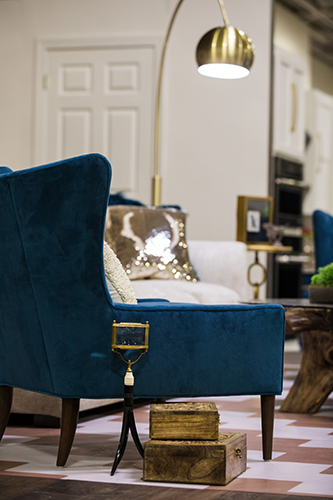 When the Downtown Raleigh Home Show returns to the Raleigh Convention Center October 4-6, there is so much to do a see. We're helping to plan your day at the show by highlighting the top five not-to-be-missed features:
1. Designer Rooms Curated by The Design Haus. The Design Haüs is hosting KNOW THE PRO - where show guests can visit with a team of designers while touring three fully furnished designer rooms curated by The Design Haüs. The designer rooms are full of the latest and greatest furniture, decor and design trends that will give your home the up-to-date look it deserves.
2. Eye Candy At The Trend Gallery The home show experience is a great place to pick up lots of eye candy -- and one of the best places to catch it is at the Trend Gallery. Located at the show entrance, it's a visual representation of the latest interior design and décor finishes, furniture, colors, textures and patterns, curated by local interior design one-stop-shop, Help Me Rhonda Interiors & Open Door Furniture and Accents. Stop by and enter to win a $200 gift card.
3. Great Kitchen Giveaway. Need new kitchen backsplash, flooring, countertops, cabinets? Do you need a refresh or complete renovation? The GREAT KITCHEN GIVEAWAY is the answer! Enter to win these great prizes and see The Kitchen Giveaway at the Downtown Raleigh Home Show and meet with experts for each of these services.
4. Shop Local. Support local business and artisans at The Touch of Home Market, a shopping destination within the show. Check out this spot for the touches that make a house feel like a home: handmade items, home décor, pet products, gourmet gifts, and more. Located near the beginning of Aisle 100.
5. The Great Outdoors. A fan favorite feature at the Downtown Raleigh Home Show are the large, lush displays of outdoor living. Luxury Living Scapes is building an Outdoor Oasis on aisle 1200 while RB Landscaping is spotlighting unique hardscapes, landscapes and outdoor living on the opposite aisle 100.
Posted on: October 1, 2019