We're helping our exhibitors promote local job opportunities in the home improvement industry. All companies listed below are currently filling positions. Please contact the exhibitor directly at the phone number and/or email they provided.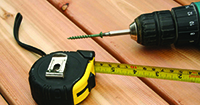 Trade Day - Free Admission
Sunday, January 26, 2020 is Trade Day! Complimentary admission on Trade Day to those employed in a skilled trade, members of a trade organization, or students enrolled in a vocational school, with ID at the box office.