BIG CROWDS. BIG SUCCESS.
Thousands of homeowners will converge on the Raleigh Convention Center for three days of shopping at the Spring 2018 Downtown Raleigh Home Show, making it a must-attend event again this year. With ideas in mind and money to spend, visitors eagerly walk the show to gain inspiration and meet with over 300 exhibitors and experts to discuss their projects. Here's a summary of the exciting marketplace these buyers will experience.


CLICK HERE FOR THE 2018 POST-SHOW REPORT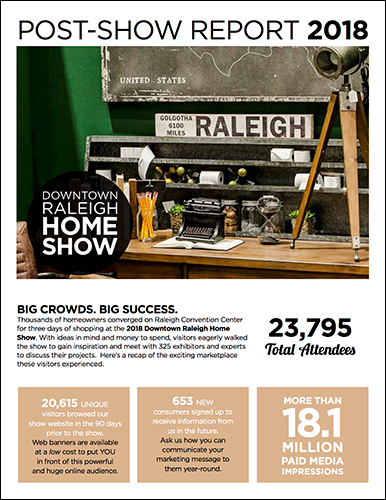 CLICK HERE FOR OUR 2018 SPRING SHOW PROFILE
WHY EXHIBIT?

FACE-TO-FACE SELLING CREATES TRUST
Our events provide an opportunity to share your product and/or service with consumers on an individual, face-to-face basis. This puts you in the driver's seat! You can tailor your selling points to the needs and wants of each consumer… one at a time. No other marketing vehicle affords this unique and powerful approach. How much more perfect can it get? Grow your business! Get a Booth Quote today!
Watch a sample of the exciting marketplace buyers experience at home shows produced by Marketplace Events.
BE HERE AND INCREASE BRAND AWARENESS
Guests at our events come because they know we deliver on our promise to provide sought after information: today's hottest experts, latest technology, trendiest designs, most competitive pricing.

Placing your brand in our events creates a positive and valuable association for your company. In addition to making sales, utilize our events to help shape consumers' opinion of your brand and to generate instant credibility.

Consumers in our event environments are much more receptive to the features and benefits of your product because they attend our shows specifically to learn. And buy. They're on a quest! Be front and center in our vibrant marketplace when they're looking for you. Let our team show you the value of exhibiting at the Downtown Raleigh Home Show!

Read the Post-Show Report!
EXHIBITOR BENEFITS
Top 10 Reasons to Exhibit in Consumer Shows
Shows are immediate and compelling. You can't change the channel or turn the page.
Consumers are ready to buy.
The audience is pre-qualified. They paid to gain entry.
Shows produce far fewer tire-kickers or unqualified buyers than any other form of advertising. If they are at a show, they want to purchase.
Accomplish a multitude of objectives: make immediate sales, gather quality leads, build brand awareness; sample products, set appointments, and more!
Shows are ideal for test marketing or launching new products. You get to view reactions then and there.
Shows are excellent at helping you stand out from your competition.
Shows are very cost-effective. It is the show that makes a massive investment in marketing.
Shows are the only form of face-to-face marketing.
Consumers can touch, see, hear, taste, feel and smell the products. It is the only form of marketing that engages all senses.