How to Use this Exhibitor Kit
Welcome to your Exhibitor Kit! Please use the following links to learn more about what you need to do to prepare for the show. Wondering where to start? New and returning exhibitors should all follow these critical steps for success:

1. Review the Exhibitor Manual with your show staff.
2. Place orders for show decorator services and utilities prior to the show.
3. Review in full the Move-In Schedule for your day and time to move in. All exhibitors, new and returning, should review this entire document carefully and share with your setup crew!
4. Go over the Must-Do checklist to ensure your booth and staff are show ready.
5. Contact us with questions; we're here to help you have a great show!
Important Forms
Show Decorator Services (rental of booth carpet, tables, chairs & more):
Hale Expo Services List
Now available from Hale, online ordering! For assistance with your order on-site, please visit the Hale Service Desk at the front wall of the show floor (Hall A) during move-in and move-out.
Pre-Order Discount Deadline: Friday, January 10, 2020

RCC Electrical, Telephone, Internet, & Water:
Raleigh Convention Center Utilities Order Form
All utilities are ordered through the convention center; if you do not place your pre-show order and need to order on-site, visit their kiosk at the front of the show floor (Hall B) during move-in.
Pre-Order Discount Deadline: Friday, January 10, 2020

Pre-Show & On-Site Marketing Opportunities:
Looking for an affordable way to increase your booth traffic?
Production and publication deadlines apply; contact us today!

Other Helpful Links & Forms:
Sales and Use Tax Requirements
RCC Food Sampling Guidelines (no alcohol sampling is permitted)
Sample Exhibitor Lead Card - Printable Version
Downtown Parking Garages & Lots
Liability Insurance Application
EXHIBITOR LISTING
If you are a NEW exhibitor to the Downtown Raleigh Home Show, please use the instructions below to submit your Exhibitor Listing:
How to Submit Your NEW Exhibitor Listing

If you have exhibited in the Downtown Raleigh Home Show previously, please use the instructions below to review or update your Exhibitor Listing:
How to Review Your EXISTING Exhibitor Listing

It is important to submit your listing; if you do not submit your listing, you will not be included in the show's printed guide!

Deadline to submit is Friday, December 20, 2019 to be included in printed Show Guide! Submissions after this date will be posted online only.
Move-In
Everyone should read the entire Move-In Schedule for complete instructions on move-in. Please share this document with your setup crew.
Show Dates & Hours
Friday, January 24, 2020: 11:00am - 9:00pm
Saturday, January 25, 2020: 10:00am - 9:00pm
Sunday, January 26, 2020: 10:00am - 6:00pm
Move-Out
Sunday, January 26, 2020: 6:01pm - 10:00pm
Monday, January 27, 2020: 8:00am - Noon
Hours subject to change.

Move-Out Procedures
A copy will also be dropped in your booth on Sunday morning of move-out to help your staff prepare.
EXHIBITOR WEB BUTTON
Post this image (right click to save) in your company newsletter, blog, website, or on social media with the following link to share an additional savings on tickets to the show with your customers, prospects, and followers!
Link to copy and past for ticketing page with discount applied: https://raleighspringshow.tix123.com/?disc=SAVINGS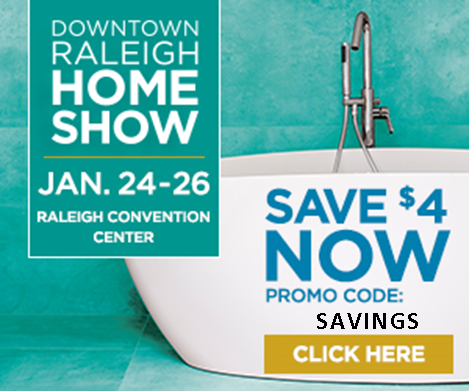 Social Media
Spread the word to your fans, followers, and email subscribers! Here are is an image to use to invite your prospects and customers to come see you at the show! Be sure to use the show's hashtag and tag us when you post, so our social media team will see it and share. Do not create your own event for the home show on Facebook; instead, look up and share our event posting (we keep it up to date, accurate, and engage followers within the event so you don't have to)!

Raleigh Home Show Social Handles:
Facebook: @HomeAndGardenEvents
Instagram: @RALHomeShows
Twitter: @RALHomeShows
Hashtag: #RaleighHomeShow
Suggested Post to Share with Image (simply copy and paste):
Get ready for décor inspiration, project ideas & expert advice. Downtown #RaleighHomeShow takes over Raleigh Convention Center on January 24-26. Find everything you need to refresh your space. Get tickets online now & SAVE: DowntownRaleighHomeShow.com
Instagram, Twitter, Facebook Post, or Email Image:
Right click (or hold your finger down if on mobile) to save image below.